ARLINGTON WOODS LLC & WEST MICHIGAN HOMES OF MUSKEGON LLC ARE LOCALLY OWNED & OPERATED.

Arlington is owned and operated by a group of local individuals. We are not affiliated with any other outside companies or with other manufactured home communities. Arlington's only affiliation is with its sister company, West Michigan Homes of Muskegon LLC, which handles the sale of our homes. The management team of both Arlington and West Michigan are all local residents.
Arlington North Community
This was the first addition to Arlington Woods and is located on the north side of Evanston Ave, and was built in 1973. It features wide roads and is home to our second basketball court as well as updated playground equipment.
Arlington East Community
The East section was added in the late 1990's. It features the newest homes on spacious lots with well manicured lawns. In April of 2016 we moved our office to the East Community and added a clubhouse that is open for rental reservations to our residents.
Arlington South Community
This is the original community that was established in 1968. It sits appropriately on the south side of Evanston Ave. It features wide roads, star lots and is home to one of two basketball courts. We also added new playground equipment in 2015.
Arlington Woods is located in the Eastern Muskegon County. One of our main features are the mature oak trees throughout the community. Residents enjoy easy access to shopping, highways, recreational facilities, schools (
ORCHARD VIEW SCHOOL DISTRICT
) and medical services.
Our office building is located in the East Community on Friendship Lane which includes our community clubhouse. A relaxed atmosphere, shady lots, an RV storage area, basketball courts, and updated playground equipment in 2 locations are just some of the features here at Arlington Woods.
We offer 3 separate and distinct community experiences on both the north and south sides of Evanston Ave, with 24 hour on-site management team.
West Michigan Homes is our sister company that sells new homes in our community as well as the refurbished used homes.
Our new homes are currently being sold to you at our cost only! We will show you the invoices from Harmony Homes (the manufacturer), the setup company and any other invoices related to the sale. Our focus is on filling the community with good homes and good people. Too good to be true? Stop in to see us and we will show you that it's not!
We offer in-house financing to qualified buyers on both our new and used homes.
West Michigan Homes is a licensed mortgage loan originator. Our NMLS number is 349840.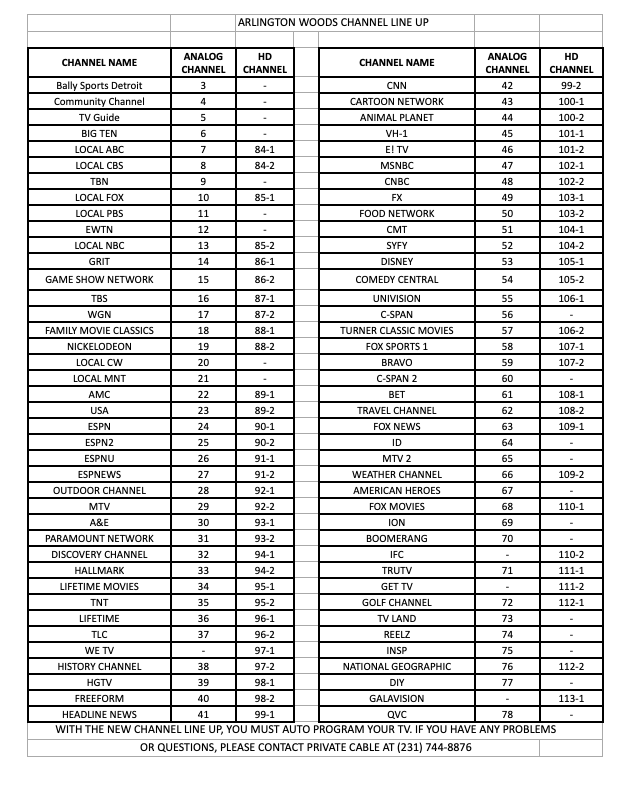 Amenities:
All lot rentals include fresh water from 8 on-site wells, sewer, trash removal, and cable TV. We also have a gated storage area available to our residents, for a fee of $5.00 a month per storage space.
Lot rent is $410.00 per month beginning January 1, 2022 and is based on double occupancy. There is a $5.00 per month charge for each additional person. All homes are owner occupied (no sub-leasing). We do not rent homes.
Security Deposit:
We require a $300 security deposit collected prior to occupancy.
Pets:
We allow one pet per household (with prior approval). There is a $5.00 per month pet fee. We do require a pet interview and a statement of breed prior to the pet residing in your home.
Newsletter:
Each month we put together a newsletter for the residents and friends. In it you will find the news from our community, birthdays & anniversaries, recipes, classifieds, and homes for sale.
YOU WILL NEED THE FOLLOWING DOCUMENTS:
​​​​​​​-Most recent paystubs.
-Federal income tax returns (past 2 years) and/or W2's/1099's.
-If self-employed, last 2 years complete business tax returns for all businesses owned.
-Bank statement, checking and or savings.
-Picture identification for everyone over 18 years of age.
-Social security cards for everyone over 18 years of age.
-Award letter if receiving any Social Security.
-Most recent 2 years proof of Child Support (if using as a source of income).